The system is designed for automatic group thermal thermal precision processing of silicon wafers with a diameter of 100 mm in the manufacture of semiconductor electronics products_
Thermal diffusion equipment
Thermal diffusion equipment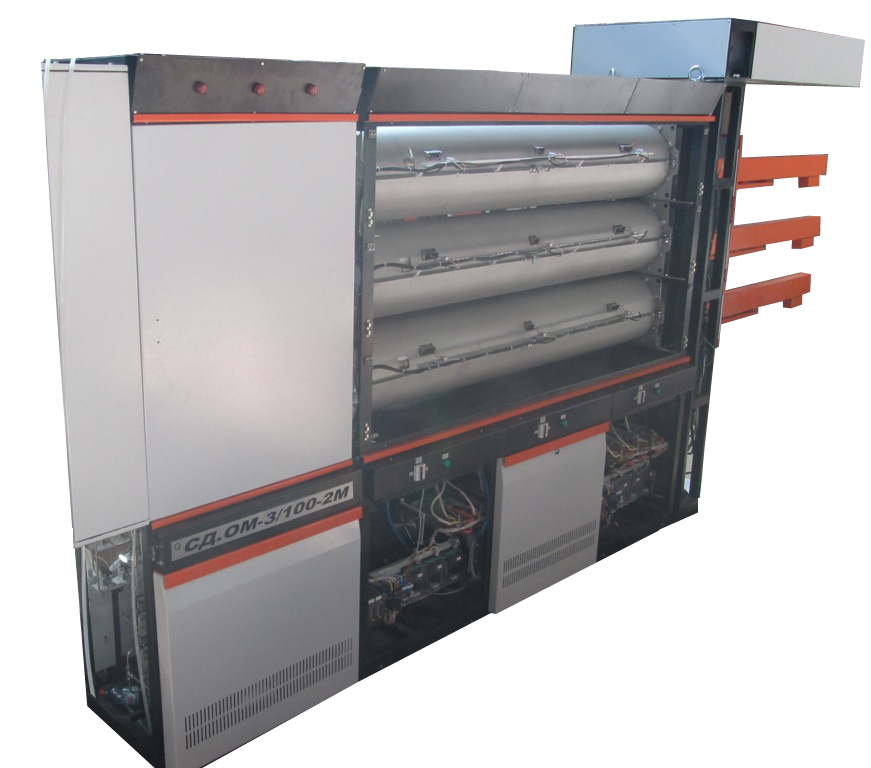 Thermal diffusion is a physicochemical process that changes the surface structure of a workpiece under conditions of thermal stabilization and a controlled atmosphere.
At present, NPO GKMP LLC is the only domestic manufacturer of SDOM type thermal diffusion systems designed for processing semiconductor wafers with a diameter of up to 100 mm. It is possible to manufacture plants for processing plates with a diameter of up to 150 mm; in the future, plants for thermal diffusion of plates with a diameter of 200 mm and 300 mm are being developed.
Depending on customer requirements, in thermal diffusion systems it is possible to realize oxidation processes (including pyrogenic) and diffusion using various oxidizing agents and diffusants (nitrogen, chlorine, arsenic, phosphorus, boron, etc.)
The heating elements used in installations like SD.OM have a unique design and are wound from wire of special grades of high-temperature alloys (Eurofechral, kanthal, kanthal A1). Winding is carried out in a hot state according to a specially developed technological cycle, which significantly reduces the residual deformation of the resulting heater and extends its service life.
Features of installations like SD.OM:
number of heating chambers: 2 or 3;
maximum process temperature: 1250 ° C;
length of the working thermal zone: 600 mm;
temperature field distribution error: ± 1 ° С;
temperature reproduction accuracy: ± 1 ° С;
heating element material: Kanthal or Eurofechral;
loading and unloading: manual or using built-in loaders;
modern automated process control system;
independent operation of each reactor;
energy-efficient power supply system for heaters;
accurate system for controlling the flow of oxidizing agents and diffusants.
Parameter name

Value

Number of chambers in the installation:

1, 2, 3 или 4

Form of the chamber

cylindrical

Dimensions of the working area of the chamber:
- diameter, mm:
- length, mm:

100, 150 (200 and 300 under development)

600* (according to customer request)

Operating temperature range in the heating chamber, оС:

100...1250

Heating type

resistive

Permissible mass with parts, kg

1...15

Range of heating / cooling speeds, ° C / min:

1…20

Processes:

diffusion, oxidation (including pyrogenic)

Number of inputs for working gases:

2...8

Available operations with working gases:

mixing, moisturizing

Minimum percentage of each gas when mixed:

5%

Range of automatic adjustment of the flow rate of each gas, l / min:

20...600

Possibility to install additional liquid diffuser bubblers:

yes

Possibility to install a loading and unloading system with the possibility of shaking:

yes

The uniformity of temperature in the working space without loading the electric furnace with automatic control of maintaining the temperature in the steady state, ° C, is not worse:

±1±0,0005t

Stability of maintaining the operating temperature in the working area when controlling heating in automatic mode, ° C, no worse:

±1±0,0005t
Ordering products/services
Получить консультацию
Подробно расскажем о наших товарах, видах и стоимости доставки, подготовим индивидуальное предложение для оптовых клиентов!
Задать вопрос
Подробно расскажем о наших товарах, видах и стоимости доставки, подготовим индивидуальное предложение для оптовых клиентов!