The chamber is designed for on-ground firing test of high-power electric thrusters using hydrogen as propellant.
Vacuum chamber for testing of high-power pulse hydrogen plasma thrusters
Vacuum chamber for testing of high-power pulse hydrogen plasma thrusters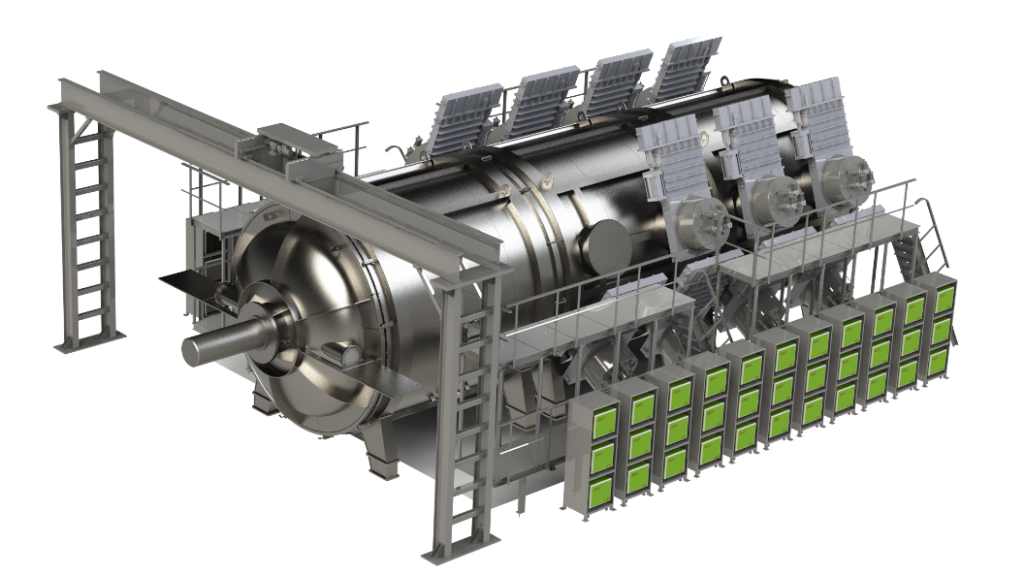 The NPO "GKMP" LLC produces environmental vacuum chambers to simulate heat-cold-humidity conditions, vacuum benches, salt-spray and rain chambers, facilities for thermal blow and light aging, deep freeze chambers and other test facilities of the domestic brand, as well as drying boxes and automation systems for test chambers.
The NPO "GKMP" LLC provides an extended warranty and performs the maintenance of the hardware all over Russia using its own production capacities located in Bryansk. Our company and equipment produced are certified per standard GOST R ISO 9001-2015. We provide warranty for all equipment produced and deliver it all over Russia, Belarus and Kazakhstan.
Components:
Vacuum chamber

Plasma flow receiver

Thermal protection screen

For pumping system

The main system for high-vacuum pumping based on specialized cryogenic pumps

Internal sliding desk to mount diagnostic elements

Tools for external optical diagnostic instruments

Control system
Our experts will be happy to answer your questions.
More than 100 project – Full-service cycle – Warrant for products produced

| | |
| --- | --- |
| Inside diameter of the vacuum chamber | 4 000 mm |
| Length of the cylindrical part of the vacuum chamber | 12 000 mm |
| Power of tested electric propulsion engines | 300-900 kW |
| Maximum hydrogen consumption in the engine | 60 mg / s |
| Ultimate pressure is | 10-5 mm Hg |
| Working pressure | up to 10-3 mm Hg (at maximum hydrogen consumption from the engine) |
| Pumping-out system | completely oil-free evacuation |
| The duration of the tests | is at least 20 minutes, at full power |
Ordering products/services
Получить консультацию
Подробно расскажем о наших товарах, видах и стоимости доставки, подготовим индивидуальное предложение для оптовых клиентов!
Задать вопрос
Подробно расскажем о наших товарах, видах и стоимости доставки, подготовим индивидуальное предложение для оптовых клиентов!