The carbothermal synthesis system is a fully automated complex consisting of eight gas and vacuum pusher furnaces designed for complex sintering and deposition processes, combined by an automatic pressurized transport line.
The complex is able to operate 24/7 for a year without the need for attendants.

Carbothermic synthesis system
Carbothermic synthesis system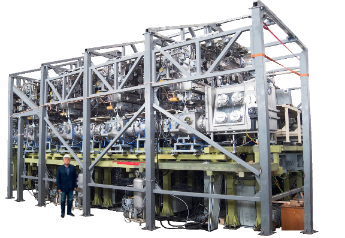 The complex consists of eight gas and vacuum furnaces, as well as a product transportation system between the furnaces. The installation is completely leak tight and equipped with two lock chambers for putting workpieces and outputting products.
NPO GKMP LLC produces specialized technological lines of any complexity and purpose, including for the implementation of complex and dangerous technological processes.
The main advantages of technological lines:
The possibility of full implementation of the technological cycle of processing inside one closed complex;
Minimizing personnel interaction with processed products, elimination of the influence of the human factor on the manufacturing process;
Full complex automation of the production process;
Highest reliability and accuracy of processing;
Resource saving, energy efficiency and safety.
Scope: any fully automated production, where human intervention is optional or undesirable.
Technological lines produced by NPO GKMP LLC comply with the Industry 4.0 international standard
Ordering products/services
Получить консультацию
Подробно расскажем о наших товарах, видах и стоимости доставки, подготовим индивидуальное предложение для оптовых клиентов!
Задать вопрос
Подробно расскажем о наших товарах, видах и стоимости доставки, подготовим индивидуальное предложение для оптовых клиентов!