Equipment for growing silicon crystals by the Czochralski method
Equipment for growing silicon crystals by the Czochralski method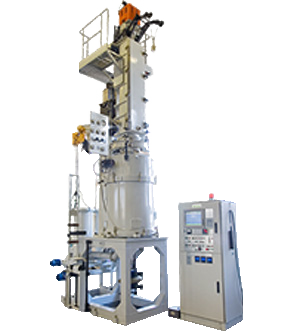 Purpose:
It is used for automatic production (except for seeding) of silicon single crystals with a diameter of up to 250 mm with a total length of up to 1600 mm by the Czochralski method from a crucible ø 508 mm. The most industrial techniques are called oriented crystal growth (Czochralski) as in this method a seed (a preoriented small crystal) initiates the growth in a predefined direction.
Parameter name

Value

Diameter, mm, no more
250
Hight, mm, no more
1600
Seeding speed, rpm
0,1 - 8,0
Seeding rotation speed, rpm
1,0- 30,0
Accuracy in maintaining the speed of movement and frequency of rotation of the seed,%
> ±1
Movement of crucible, mm
400
Crucible speed, mm/min
0,01- 2,0
Crucible rotation speed, rpm
1,0- 20,0
Diameter of crucible, mm
508
Max.residual pressure, mmHg
5х10-3
Max. pumping speed, l/s
150
Cooling water consumption, m3 / h
10
Inlet cooling water pressure, MPa, not less
0,3
Argon consumption, l / h, no more
3600
Recommended inlet gaz pressure, M
0,25
Recommended compressed air pressure, MPa
0,6
Compressed air consumption per process, m3, no more
0,1

Power supply

voltage, V

frequency Hz

3х380+N

50

Max. power on the heater, kVA
150
Heater supply voltage, V
0 - 60
Dimensions, mm
4000х2700х6200
Weight, kg
6000
Ordering products/services
Получить консультацию
Подробно расскажем о наших товарах, видах и стоимости доставки, подготовим индивидуальное предложение для оптовых клиентов!
Задать вопрос
Подробно расскажем о наших товарах, видах и стоимости доставки, подготовим индивидуальное предложение для оптовых клиентов!