Equipment for growing single crystals of leuco-sapphire by Kyropoulos method
Equipment for growing single crystals of leuco-sapphire by Kyropoulos method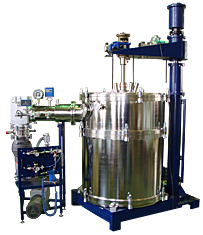 Microelectronics
Optoelectronics
LEDs, medicine
R-axis, A-axis configuration
2,4,5,6,8-inch cylinders
Optimized cylinder cutting program
High crystal growth rate – 83 kg boule - in 15 days
We have achieved 55% of using of 83 kg of boule for cutting suitable blanks of 2 "and 6" inch cylinders.
Total length for 2 "blanks 5345 mm.
The annual total gross output of 2 "cylinders (TIE) can reach 100,000 mm).
Parameter name

Value

Crystal weight, kg
до 85


Crucible dimensions, mm:
outside diameter
height

400
250
Crucible material
tungsten

Heating method

resistive
Heater material
tungsten
Pressure in the chamber, mm Hg
5х10-5
Power consumed during crystal growth, kW, no more (power control in accordance with the program)
45
Cooling water consumption, m3 / h, no more
3

Pressure of cooling water, MPa
0,3

Air flow rate of 0.3 MPa, m3 / cycle
0,01

Dimensions, mm
3200х2200х2050
Drive system:


-seed working stroke, mm
250

-speed of crystal seed movement, mm/h
0,1 - 10
-crystal seed spinning frequency, rpm
0,1 - 20

-movement speed and spinning frequency error of the crystal seed, %
±1
Power options:
voltage, V
frequency Hz
3х(380±38) +N
50±0,4
Ordering products/services
Получить консультацию
Подробно расскажем о наших товарах, видах и стоимости доставки, подготовим индивидуальное предложение для оптовых клиентов!
Задать вопрос
Подробно расскажем о наших товарах, видах и стоимости доставки, подготовим индивидуальное предложение для оптовых клиентов!