Multilayer thermal insulation of the screen-vacuum type Hoses and Transfer Hoses for Cryogenic Liquid Gas Withdraw
Flexible cryogenic pipelines are a prefabricated multi-shell design consisting of several corrugated stainless steel metal hoses (one inside the other), in the annulus of which Multilayer thermal insulation of the screen-vacuum type is used to maintain the temperature of the medium. Combination of using special heat-insulating materials in several layers placed in a vacuum, for which purpose a vacuum port for pumping is provided in the pipelines.
The system works on the principle of "thermos" - a cryogenic product is pumped along the inner sleeve, and air is pumped out from the cavity of the outer sleeve to provide a vacuum, and special heat-insulating materials (the thinnest aluminum foil + glass paper) are also placed.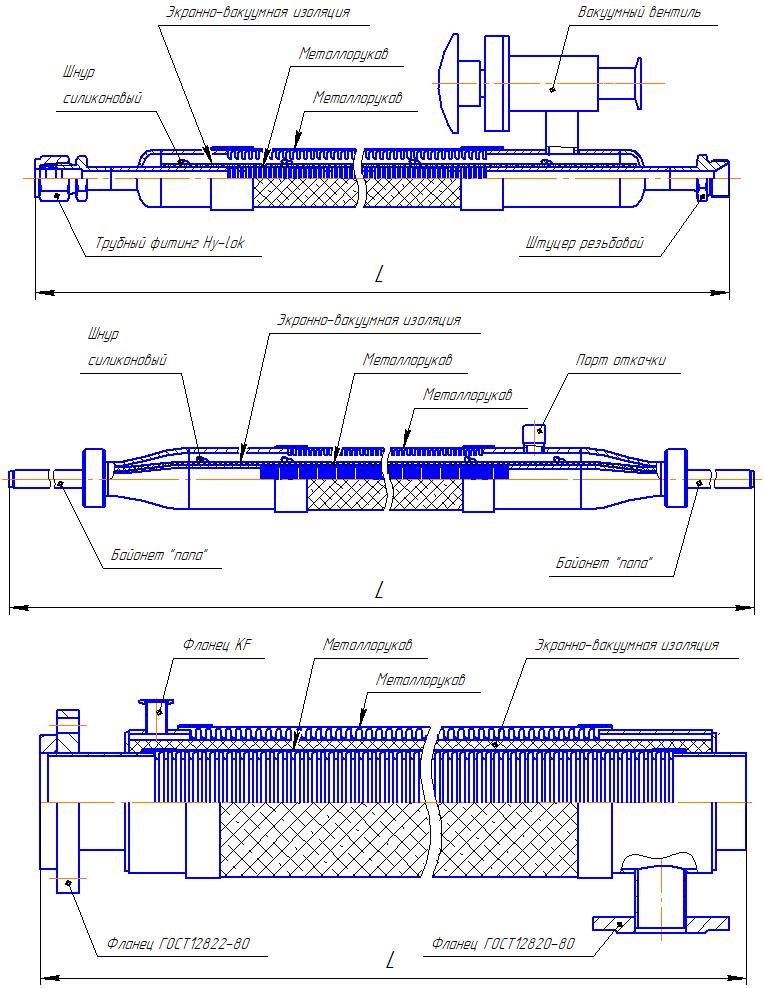 This allows not to mix pumping cryogenic products with each other and at the same time maintain their low temperatures. At the same time, system performance is increased - product losses are minimized due to almost complete reduction in heat gain. In addition, flexible metal hoses as cryogenic pipelines have a number of additional advantages - they are easier and faster to install, more economical in design and operation, they can be moved and, if necessary, dismantled and reused (for example, when changing the configuration or upgrading the system).
Technical data:
- DN of inner sleeves / - Du of outer sleeves *, mm

From 6 to 100 /

From 12 to 150

- medium temperature

Up to -270°С

- pressure

- not higher than 1 * 10-5 mm Hg.

up to 280 bar (pressure in the product transfer system)

-end fittings

on the request of the customer: threaded or flange connections, bayonet connections, for welding, etc.
*the inner hose pipe is selected according to the required product flow rate, the outer one - taking into account the need to place a vacuum cavity with the required parameters and multilayer thermal insulation.
We offer fully finished cryogenic pipelines - the hoses are assembled into a single product with the insulation and end fittings required by the customer, evacuated, completely tight - all hoses pass helium mass spectrometer leak testing.